In broad conversations about who the greatest African footballer of all time is, a claim for old-school Ghanaian #10 Abedi Ayew is never out of the ordinary.
Ayew retired before many of today's young stars were born, but his legacy has served to guide African footballers. Don't forget that Ayew was so good they called him Pele!
Born in 1964, Ayew began his professional career with local side Real Tamale United in 1980. His performances, including scoring over 20 league goals, earned him a spot on the national team for the 1982 African Cup of Nations in Libya.
Ghana went onto win the entire competition – beginning the legendary tale of Abedi's career.
Today, the logical progression for a young African player after bursting onto the scene and winning the AFCON is to move to a European team and aim to continue to develop. But during the 80s there were not many established pipelines for young talent to move to Europe from Africa. So when Qatari side Al Sadd, now managed by Barca legend Xaxi, offered Tamale $1,000 for Ayew, they obliged.
One of the main criticisms of Abedi's career has been his nomadic nature. From 1982, when he left Tamale, to 1986 when he came to France, Ayew played for four clubs in Qatar, Switzerland, Benin and Ghana.
When he finally arrived in French football, with second division side Chamois Niortais, he scored 14 goals in his first season as they got promoted. He subsequently moved to Mulhouse (who are now in the fifth tier) for a season before joining Marseille, where he enjoyed some of his best years.
.
The big move
His ability could no longer be hidden behind the lower reaches of the French game and Olympique de Marseille snapped up the 23-year-old, however, his first season wouldn't go as he expected.
Aside from the frustration of only playing nine games for the French giants, Pele was confronted by racism for the first time in his career at the Stade Vélodrome.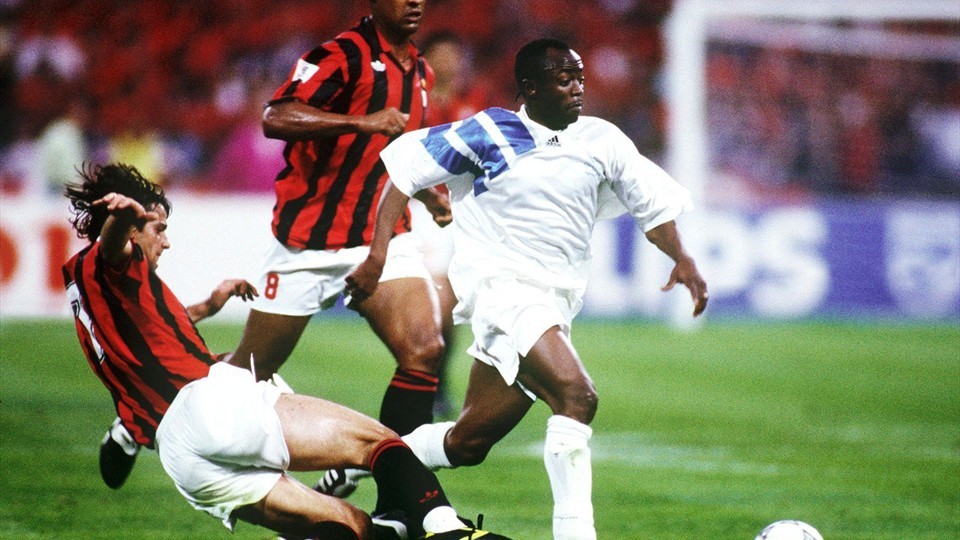 "I started playing with them and three weeks later I called my manager and told my manager 'look, I would like to change club because I wasn't accepted by the players. Any time they see me passing, they spit on the ground… (and say things like) 'go back to where you come from, go back to the bush.'" This nearly derailed his time in France but was released on loan for one year to Lille and once he returned to Les Phocéens in 1988, this is when at the age of 24, Abedi Pele played at the height of his powers.
Putting African football on the map
Electrifying pace, sublime skill, and an eye for goal are the three most appropriate adjectives for the Ghanaian legend. Forming part of the famed 'magical' front three at the club that included Chris Waddle and Jean-Pierre Papin who lead the club to three consecutive Ligue 1 titles between 1988 and 1992.
Causing havoc from the left flank and running at defenders with dribbling ability rarely seen arguably until the introduction of Lionel Messi in 2005. What Pele did for the African game in France went beyond mere statistics. He provided a gateway and helped create a market for players on the continent to ply their trade in Europe at a time when the African player wasn't necessarily viewed as world-class potential.
The fans that Ayew wooed at the Stade Vélodrome will never forget the Ghanaian. Watch his best moments in the video below.
In the 1992/1993 season, despite a bribery scandal that surrounded the club, resulting in the domestic league prize being uncollected, Marseille still won the UEFA Champions League, the only French outfit to do so then or since.
The three-time African player of the year played a critical role, as he assisted goal scorer, Basile Boli, who headed OM to victory in the final against arguably the team of 1990s, Fabio Cappello's ruthless and stylish AC Milan side.
In five seasons at Les Olympiens, Ayew made a total of 147 appearances, scored 30 goals, and registered nine assists.
His decline at club level international career
Once the mid-1990s came along, he made a series of moves around Europe, which included a lean spell at Lyon in 1994, two good seasons in Serie A with Torino, and then another laudable two-season stint in the Bundesliga with TSV 1860 Munich, which would signal the end of his journey among football's elite in 1998. His last club would be at the United Arab Emirates with Al Ain, where he'd collect a good cluster of goals before hanging up his boots at the turn of the century in 2000.
International career
Although Pele enjoyed a vastly successful international career with the Black Stars, it could have been far better had the politics not interfered.
According to Goal.com, he stated the main reasons why he didn't represent his country from 1986 to 1990.
"I had some personal problems in the national team. From 1986-90, I never came to play for the nation. I refused coming (to play for Ghana). You know this politics. It has its own things," he told Ghanaian broadcaster, GTV Sports Plus.
"In '88 and '89, I was on fire in France, destroying everybody but I never came to play for the national team.
"They [Ghana] sent this man – I have forgotten his name – he was in Kotoko. He came to Marseille to see me and see all the executives of the team.
"So, they then told him they have allowed me (to stay away from international duty). At that time, we didn't have this Fifa rule that you have to automatically play for the national team," the 55-year-old added.
Another blotched spot was that he never played in a FIFA World Cup tournament despite all the success he's enjoyed throughout his career.
Ayew made his mark in African football at the 1992 AFCON, however. He scored three goals as he led Ghana to the final before falling to Ivory Coast 11-10 on penalties.
He won the tournament's best player award as he gave fans excellent performances in every match.