FC Barcelona's famed La Masia academy have produced numerous world-class talents, from Andrés Iniesta to Lionel Messi.
Unfortunately, there are many players who go through the academy and can't even make it as a professional in Spain, even if they were highly-regarded as a youngster.
Meet Haruna Babangida. Before Samuel Eto'o became the Catalan's African connection, there was a Nigerian winger coming up through the ranks at Barca that had the opportunity to stamp Africa's name in Spanish football.
Babangida seemed destined for greatness after impressing in a trial after 20 minutes in Spain, his ability was simply undeniable, just ask Arsenal manager and former teammate, Mikel Arteta.
"In our dorms at (La Masia) Barcelona, we had Pepe Reina, Victor Valdes, Andres Iniesta, and Carles Puyol. But I remember there was this guy called Haruna Babangida. Wow, at 15 he was the best player in the world. I cannot put into words how talented he was. He ended up in Greece, Cyprus, and Russia. He should have been a star," the former Gunners captain told The Athletic.
Van Gaal and adapting to La Masia
Leaving home at the tender age of 13 in 1995 to join Ajax Amsterdam, the prodigy impressed at the Dutch giants, and within two years, La Blaugrana couldn't resist as he signed and although his ability was second to none, problems were never far, particularly with Louis Van Gaal.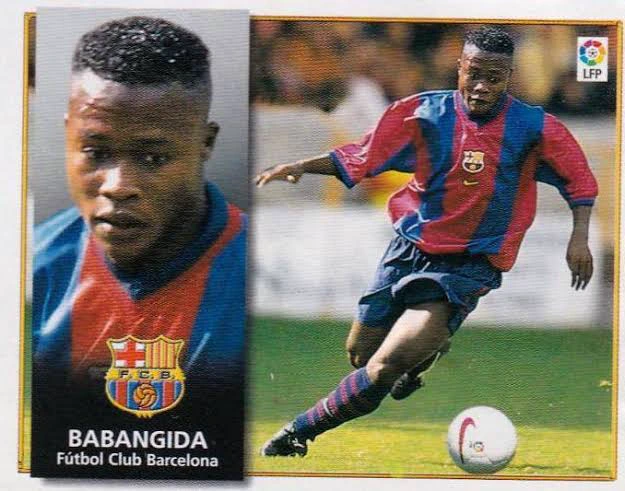 "Van Gaal does believe in young players, but he is a very tough guy and he was very strict," the 37-year-old recalls.
"He tried to control everything, inside the dressing room, outside the dressing room. I remember when I was training with the first team, Van Gaal had already learned the ringtone from my phone, and for all the players' phones, so if mine went off, he was going crazy, crazy, crazy.
"He would say, 'Why are you trying to bring the phone? Why is this person calling you?' I was young so I had to accept it. He is a tough man."
The former Super Eagles international admitted that because of the Dutchman's iron-fisted approach and tactically rigid playing style, some of his natural flair was compromised.
"With Van Gaal, you do improve a lot because he wants everything to be perfect. He does not accept that you make so many mistakes in the game and it is true, it makes it hard.
"Every trainer likes a difference-maker in his team but with the style of Van Gaal, I don't think he likes players who are chipping the ball or dribbling too much. He likes players for more simple passing."
And to make things that bit harder, acclimatizing to Spanish life and the academy was hardly a breeze, but he did have comfort that he wasn't alone in this struggle as a teenager.
"I remember it was difficult for every African boy to live in Europe during that time. I arrived at Barcelona and I was the only black guy in the whole academy.
"The problem I had was the language; I was alone and Spanish kids didn't speak English. I had a personal language teacher. But this was not just, 'Oh, he's come from far away from Africa, so it is hard.' Even for some players from Spain, it was difficult.
"Andres Iniesta found it more difficult than me. His family drove to Barcelona from Albacete and when they left, he was always crying and we had to tell him, 'Take it easy, it is OK.' It was not only me. I remember Pepe Reina's whole family kept coming and then he would be sad," he said.
Figo and the first team
In all the trouble that occurred off the pitch, on the pitch Babangida was nothing short of spectacular, and by the time he spent a full pre-season tour with the first team, he'd opened his first-ever bank account and rumours about challenging Luis Figo for a first-team birth would all come to naught.
"I watched the first team train and saw the games live in the Nou Camp. Then one day they told me, 'Tomorrow, don't be late, you are training with the first team.' It was difficult to sleep that night, knowing I was about to train with Rivaldo and Luis Figo.
"I was scared to enter the dressing room. Figo came up to me though and said, 'Hey Haruna!' He already heard about me because all the newspapers were talking about me."
Although the former Portugal captain was welcoming, this wasn't the case for other first-team players who warned him to toe the line or else he'd get treated with no mercy, to put it lightly.
"I remember I was already in the team training and defenders like Sergi (Barjuán) and Miguel Angel Nadal told me: 'Haruna, believe me, if you run today, if you don't pass the ball, we are going to kick you. So get the ball and pass the fucking ball.'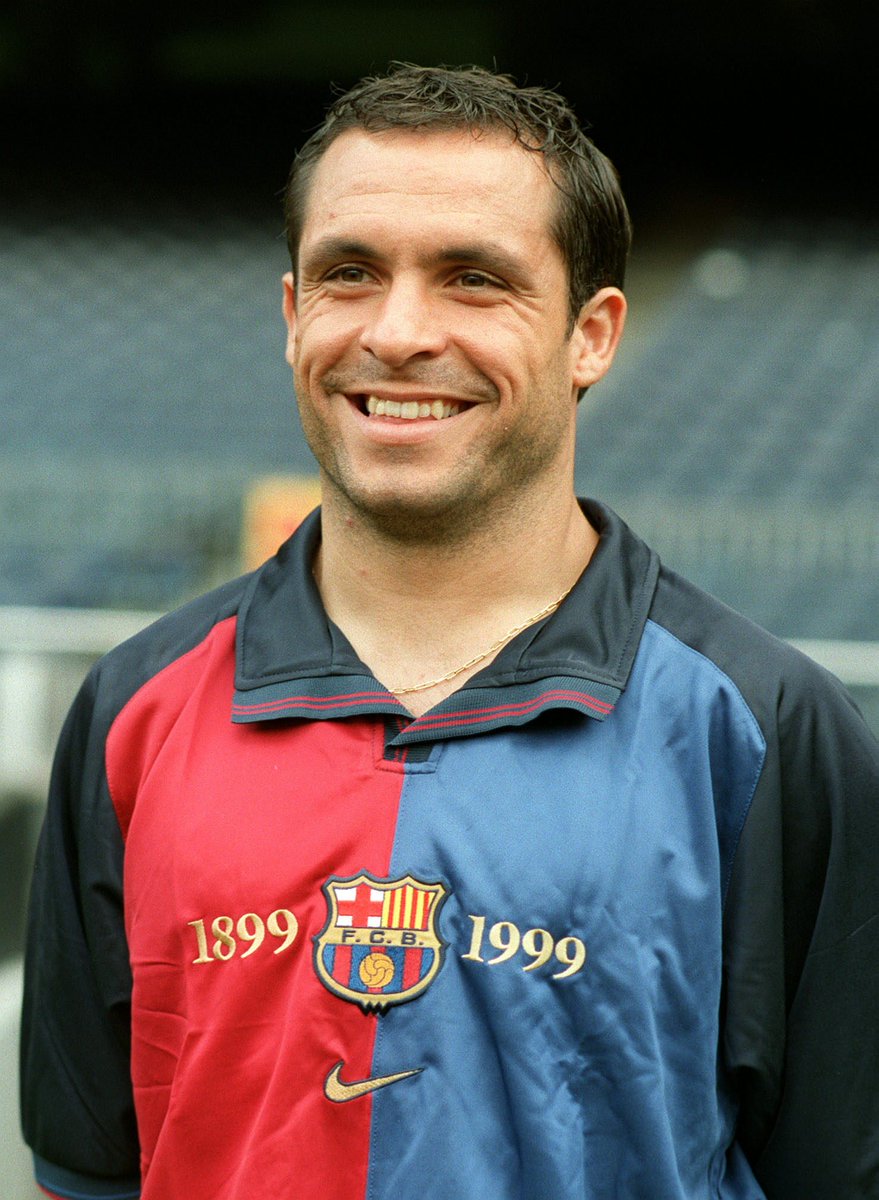 In response, all the Kaduna-born attacker said was this.
"Pass the ball to my legs and then we play.' All the coaches used to say to the midfielders, 'Get the ball and give it to Haruna.' I believed in my dribble."
By the end of that pre-season summer, he became the second-youngest debutant in the club's history in 1998, but that would be the closest he would come to being a first-team regular at the Camp Nou and after loan spells at Terrassa FC who are in the fourth tier of Spanish football, in 2005 he would leave for Ukrainian outfit, Metallurg Donetsk.
Was he given the right opportunity?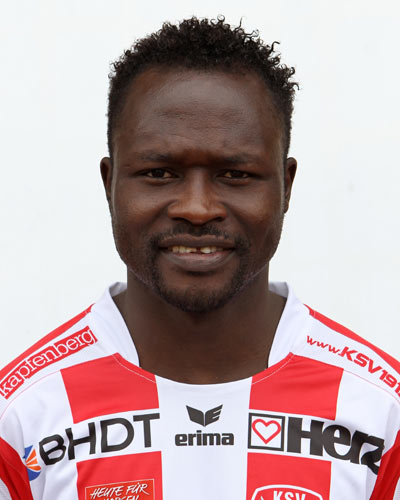 Ukraine, Cyprus, Russia, Holland, Greece, Malta, and France would be the countries he would play in over the next decade before retiring in 2015.
However, he believes that if he hadn't been coached the way he was and was given a fair sustained period as a first-team regular things would have been different.
"Everyone was talking about me, but the proper chance never came. I always heard from other people that I was unlucky. In every season, I was the best player in Barca B.
"I do believe it could have been different with another coach. One hundred percent. If it was (Pep) Guardiola or Luis Enrique, for sure, and not because they knew me personally.
They believe so much in talent and young players. No matter who is in the first team, if he is not as good as you, he won't play. During my time, it was not the same. You need somebody who believes in you and trusts you."