Reigning African champion Algeria extended its unbeaten run to 20 matches this past week with a 1-0 win over Nigeria and a 2-2 draw against Mexico. Defender Ramy Bensebaini played a key part in both those results, scoring the lone goal in the victory against Nigeria, and setting up the second goal against Mexico. The 25-year old left-back, who plays his club football for Borussia Monchengladbach, showed again why he is largely considered the best left-back in African football.
For Benjamin Hajji of Maghrib Foot, there is no doubt about Bensebaini's position in the African hierarchy. "The best left-back in Africa has to be Bensebaini," he told African Football HQ. "I do not even think anyone is even close at the moment. He's the best since Kwadwo Asamoah."
Arsenal trial at 18
A product of the famed Paradou academy in the outskirts of Algiers, which he joined when he was 12, Bensebaini has always been destined for big things. At 18, while playing in the Algerian 3rd division with Paradou's first team, he was spotted by Arsène Wenger and invited to Arsenal for a 2-week trial.
"I spent a month on trial at Arsenal in 2013," Bensebaini told French paper Ouest France in an interview last year. "I was training with the first team and I was playing matches with the reserves. I had spoken several times with Arsène Wenger. I was going to sign, but there were problems with regards to my papers and nationality."
Despite the set-back, the slender defender was on his way to Europe shortly after, joining Belgian club Lierse on loan the following year in 2014. It took just one season in Belgian football for Bensebaini to showcase his talent, quickly earning a move to French club Montpellier and eventually Rennes, where he would really start to cement his reputation as the best African left-back.
In 2019, Bensebaini played a key role in helping Rennes win just its 3rd ever Coupe de France. In the semi-final, Bensebaini scored the winning goal against Lyon in the 81st minute to send Rennes to its first final since 2014. In the final, going up against giants PSG, Rennes created the upset, beating PSG in the penalty shoot-out with Bensebaini converting his PK.
Africa Cup of Nations winner
It would be the start of a busy summer for Bensebaini. In July, he was key in helping in Algeria win its 2nd ever Africa Cup of Nations title, starting in 6 games for the Desert Foxes during the tournament, including all the knock-out stage ties and the final.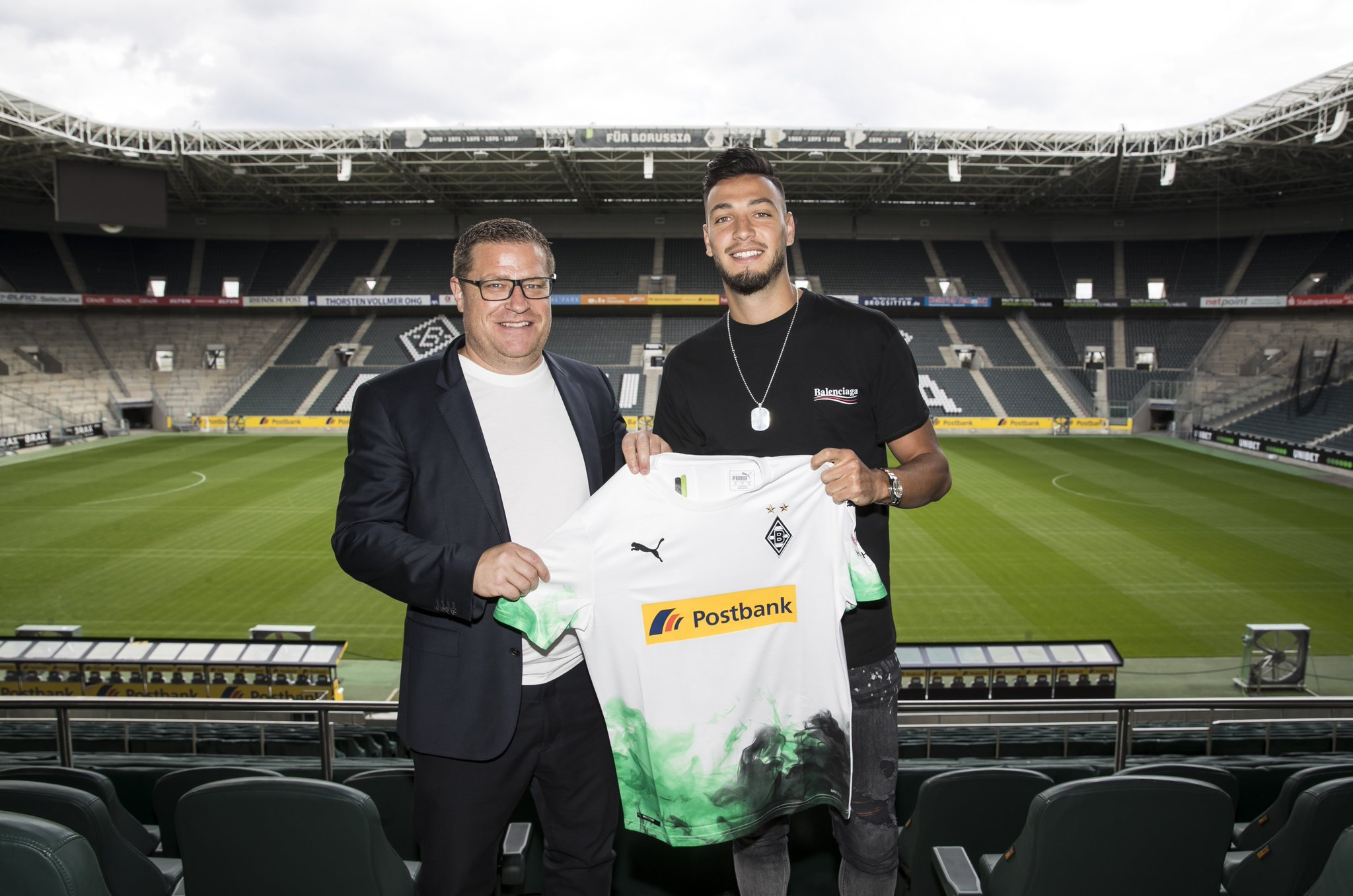 In August, the Algeria international moved to Bundesliga side Borussia Monchengladbach for a fee of 10 million euros. That move would propulse his career to another echelon. Playing under Marco Rose's free-flowing attacking system, Bensebaini was given more liberty to push forward and contribute to the attack.
A fit that was clearly obvious for Bundesliga expert and analyst Abel Meszaros: "His fit is obvious in Marco Rose's team: he has the requisite attitude, stamina and tactical intelligence to play the high-octane pressing," he told African Football HQ: "Defensively, he's great in the air and at interceptions. Offensively, he's a 60% dribbler and pretty good at progressing the ball. "
It showed in his first year in the Bundesliga, finishing the season with 5 goals and 3 assists in just 19 appearances. The culmination of Bensebaini came just before Christmas when Bensebaini scored both goals in a famous 2-1 win over giants Bayern Munich. It would be Bayern's last loss of the season, as they would stream-roll the rest of the way to win the Bundesliga, German Cup and UEFA Champions League titles.
🔥🇩🇿 Com vocês, o argelino Ramy Bensebaini, lateral esquerdo do @borussia Monchengladbach.#PaixãoPorOusar@Bundesliga_EN pic.twitter.com/JZE59uUhMm

— Ponta de Lança (@pontalanca) April 16, 2020
At just 25 years of age, Bensebaini has many years ahead of him and he has already been linked with a number of top clubs. How far can the Paradou academy product go?
"Bensebaini is very much developing quickly and because of his knack for showing up in the big matches, plus positional versatility, great things are ahead," Abel Meszaros added. "I think should he and Borussia Monchengladbach do well in the Champions League, they might take a lot of money for him this season, though I don't think that is the plan. It's more realistic to see him play 1-2 great seasons and then move on."
With 32 caps, 4 goals and Africa Cup of Nations winner's medal, Ramy Bensebaini has already cemented himself in Algerian football history. His next objective is to leave his mark on European football.